Installing a beautiful and welcoming front door is one of the best ways to increase your home's curb appeal. However, not all door materials are the same, and some can even be more costly in the long run.
Although stylish, a high-end wooden door is prone to varying weather conditions. When exposed to high humidity, it can get swollen. Usually, you'll need to do some sanding before applying several layers of protection coat to help prevent it from swelling.
Fortunately, wood is not the only material used nowadays for a front door. A fiberglass door can achieve the same level of style without having the same inconveniences as a wooden door.
The advantages of a fiberglass door go beyond aesthetics, though. Aside from having the natural capability to resist weather changes, this front door can also add significant insulation to your home.
Still not sure if this fiberglass door is the right choice? Let's take an in-depth look at why most homeowners are now switching to a fiberglass front door.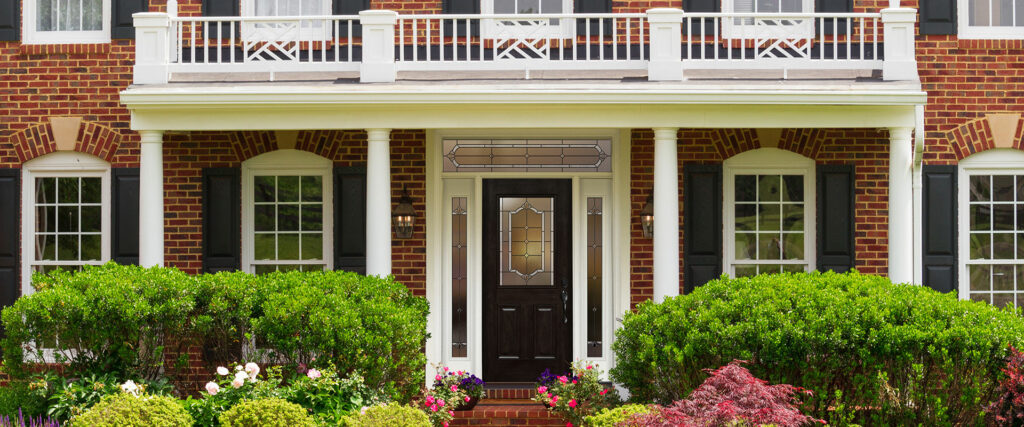 Considerations for Your Exterior Entry Door
The front door is the first thing that visitors encounter before entering your home. Even when people pass by your property, they will either admire or ignore this part of your home's facade. Of course, you would want them to praise your house.
However, an exterior entry door is not only about the aesthetic. It also helps regulate the temperature inside a house and keeps everyone and everything indoors safe.
As such, it is essential to thoroughly give considerable thought when choosing a front door – either as a new one or a replacement. 
To help you with this task, here are five of the most vital things to consider when choosing an exterior entry door for your home:
1. Price
Remember that the actual entryway is just one part of the cost, as other underlying points also affect the price. The average range of door installation or replacement cost can range from $470 to $1,595, based on HomeAdvisor's analysis. This large gap between the minimum and the maximum range can largely depend on several factors, including:
Door material:

This factor usually takes the biggest slice of the pie, with low-end materials amounting from $100 to high-end ones costing up to $6,000. However, it is imperative to remember that the quality and strength of the material are directly proportional to its cost.

Installation type:

A basic door installation is always cheaper than a custom one. Custom installations could usually include additional tasks, such as intricate sidelights, transoms, or security systems integration.

Wall materials:

Depending on the scope of your home project, installing a door may involve drywall work, especially if you are relocating it. Plus, it may also require additional electrical and plumbing work.

Door hardware:

You must consider the cost of knobs and locks, regardless of whether you chose pre-hung types or otherwise. If you prefer electronic entry kits with smart locks, you'll have to shell out an additional $300 for the overall cost.
If you are planning to replace your door, you also need to consider the additional costs you will incur. Fitting your new door to an existing opening is cheaper than having to reframe it.
2. Durability
Your front door will take a lot of beating from the elements, so you must pick one that is durable enough to withstand this. Aside from holding up to everyday use, it also needs to resist severe weather and environmental conditions. For example, steel and wood doors cannot offer the same level of protection as fiberglass when hit by flying debris.
If you want a door that will last for a long time with minimal maintenance, a fiberglass door is always the best investment. It has high impact resistance – meaning it cannot be easily dented, penetrated, or cracked compared to wood or steel doors.
3. Style
As a general rule, your front door style must match that of your house and its interior. For instance, traditional homes always look great with doors having elegant and vintage designs. On the other hand, contemporary homes look better with a streamlined design and unique styles – especially those with fancy windows and high glass ceilings.
Forcing a door style that does not match your house's overall design can have a negative impact on your property's curb appeal.
4. Functionality
While it is evident that your front door provides an entryway to and from your home, its purpose does not end there. You should also consider the specifics of its functionality, such as:
Size:

Consider what would be the typical day-to-day situations your front door will have to go through. Do you need a wider front door to allow large objects to pass through easily, or will a standard size be enough?

Security:

Think about how you want your front door to provide safety and protection. Will a standard lock mechanism be enough, or do you need a smart lock to integrate with your devices? Do you need a thicker door to keep your home secure? Your neighborhood plays a vital role in assessing what type of security you need from your front door.

Weatherproofing:

If your area's climate goes to extreme cold or heat throughout the year, you need a door that can keep your home properly insulated. Apart from making your family feel comfortable inside, this factor can help prevent your utility bills from going overboard during the colder or warmer months.
5. Material
These days, you have more than one type of door material to choose from. You can decide on the traditional way and go for wood doors. You can also pick steel for better insulation compared to wood. Each of these materials has its own set of pros and cons. But out of all these choices, fiberglass is becoming the best one, as experienced by homeowners who switched to using fiberglass entry doors.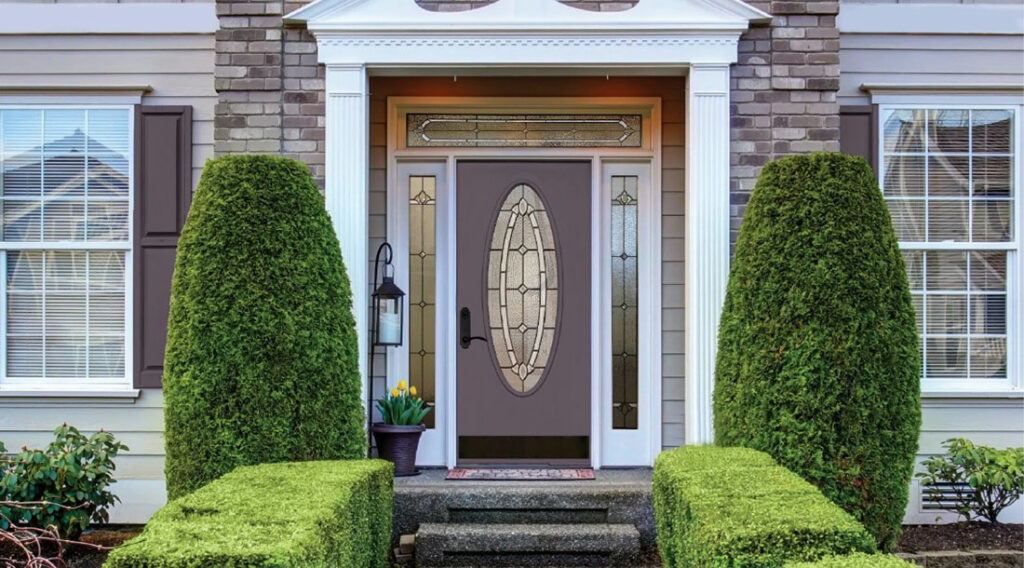 Advantages of Fiberglass Exterior Doors
Recent innovations in fiberglass technology helped doors with fiberglass material provide more value than their traditional counterparts – namely wooden and steel doors.
Manufacturers create fiberglass doors by compressing and molding each side of the door separately. Then they use a highly insulating foam core to fill up the hollow area between the two pieces. This process helps create stylish fiberglass doors that are energy efficient as well.
One specific benefit of a fiberglass door is eliminating the need for a storm door. Storm doors provide additional outer door protection to your front entryway. It helps prevent wood doors from swelling or deteriorating faster and keeps steel doors from getting rusted easily.
Here are some of the other benefits you will get if you choose fiberglass material for your front door:
Versatility
Fiberglass doors come in a large selection of colors, styles, and grain designs. Its visual appeal can effectively mimic solid wood designs without requiring the same effort to maintain. Compared to steel doors, which usually cannot be easily painted over to match your home's style, fiberglass doors offer greater flexibility in terms of appearance.
With very few design choices for steel doors and higher maintenance requirements for wood doors, fiberglass is the clear winner in this department.
Durability
Wood doors are popular for being durable, but it does not mean they are immune to damage from the weather and other elements. Regardless of how aesthetically pleasing a wooden door is, it is not a good experience to have issues opening it up when it swells.
On the other hand, fiberglass doors can effectively resist harsh weather conditions and are also pet-friendly. Additionally, it lasts longer without having the same drawbacks that wood experiences over time, such as delaminating, peeling, or splitting. Since they have no breaks or seams, fiberglass doors are impervious to rot and moisture. Compared to steel doors, fiberglass doors also do not rust or get dented.
Energy Efficiency
The US Department of Energy highly suggests using either fiberglass doors or insulated steel doors to significantly lower energy bills. Doing so will also help reduce energy waste considerably. Between steel and fiberglass doors, though, the latter offers a more eco-friendly solution since the manufacturing process is friendlier to the environment than steel.
With an entry system that blocks heat transfer from outside during summer, your air conditioning will not have to work overtime. It is the same during extremely cold conditions – your heater will not need a lot of energy to keep your home warm.
While you can have the same advantage with steel doors, it is not on the same level as fiberglass. In fact, a steel door can still get hot in extreme heat affecting your home's energy consumption and the door's durability over time.
Easy Maintenance
Maintaining a fiberglass door is as easy as wiping it clean with a damp cloth to remove dust and dirt. Compared to wood exterior doors that usually require refinishing or steel doors that are susceptible to rust, a fiberglass door is the best choice for minimal maintenance requirements. Since it's impregnable to moisture, a fiberglass door will never get rust or mold.
Disadvantages of Fiberglass Exterior Doors
Fiberglass doors are not for everyone, though. This type of door has some drawbacks that you need to learn upfront before investing in it. Here are some of the fiberglass door problems you may encounter:
Cost
Due to the number of advantages fiberglass doors have over other materials, it is no surprise that it's one of the more costly options. In general, pricing for fiberglass exterior doors typically stands in the middle of wood and steel costs. While most models found in big box stores usually cost up to $600 only, the design is pretty standard and common. Thus, there will be no guarantee that it can raise your home's curb appeal.
On the other hand, fiberglass exterior doors with better aesthetics and thickness can cost double the price of engineered wood doors and steel ones. Considering the short and long-term benefits, though, fiberglass provides a better option, especially compared to similar-looking decorative wood doors.
Security
Regardless of the type of door you choose, a locked door is an effective deterrent against intruders. As long as you keep your doors locked, it presents a challenge to them – making it a practical impediment to these criminals.
However, fiberglass doors are more susceptible to manipulation than solid wood or steel doors when it comes to break-ins. Any home intrusion that involves breaking down the entryway is less arduous for the criminal if it concerns fiberglass doors. The reason is that other materials have a stronger hold on the house's frame.
Ease of Installation
If you are looking to install the front door yourself, most wood doors will allow you to do that. It is a different case for fiberglass doors, though. These doors come as a complete unit, so installation requires an experienced professional to perform the work thoroughly.
How Long Do Fiberglass Doors Last?
A fiberglass door's lifespan is much longer than steel and wood. Since it is resistant to temperature and weather changes, the effects of the element will not bring down its durability. A fiberglass exterior door usually lasts between 15 to 20 years and will never require staining or painting for the duration of its life.
Durability is where fiberglass doors truly excel. But the latest manufacturing developments also add something more to its endurance. These doors can mimic the look of natural wood, so it has a lot of aesthetically pleasing designs to choose from. It is like having a stylish and solid wooden door that does not require much maintenance.
Furthermore, some manufacturers even offer warranties that cover the entire lifetime of fiberglass doors as long as you remain to be the owner of the home. The longevity of fiberglass doors is one of the reasons most homeowners today choose this type of material since it is a safe and sound investment.
Other Exterior Door Options
Wood and steel doors remain to be one of the choices for exterior entryways because they also put something on the table you won't find in fiberglass. The best way to understand if either of these materials will match your preferences is to discuss their benefits and disadvantages.
Wood Entry Doors
A wooden door is an excellent choice for homeowners who want to prioritize aesthetics over energy efficiency. However, the more decorative and solid the wood door is, the pricier it gets – even to the point of dwarfing the costs of fiberglass doors.
Below are a few of the reasons wooden doors remain a popular choice:
Aesthetics:

Wood always exudes a vibe that is warm and cozy. Homeowners who want a front door that looks very welcoming to guests will find that wood is a fantastic choice. It is also a great option if you desire to provide a luxurious look to your home. However, wood door styles are no longer unique as before because fiberglass doors can achieve the same look.

Customization:

A wood door is very customizable. You can decide to go with an elegant look or a rustic one. You can also go with a more polished effect. The stain or finish you apply can even help you further modify a wood door's appearance.
On the other hand, the drawbacks of using wood entry doors include:
Cost:

While fiberglass doors are generally more costly, some premium and solid wood doors can be even more expensive. Prices can range from $600 to $2,500 depending on how it looks and how solid the wood is. If you are planning to have a custom-designed wood door, it will be a lot pricier.

Durability:

This is one of the biggest issues with wooden doors, even if you end up getting the more expensive ones. Wood consists of natural material, which degrades faster over time. In addition, it is not resistant to the effects of weather and the elements. Moisture can invite molds to thrive and even cause the door to swell.

Maintenance:

Depending on how harsh the weather in your area is, you will need to reseal a wooden door every few years to further extend its life. A wood door also requires re-staining and painting every so often to maintain its appeal. It may even peel, chip, or crack if it goes without proper maintenance regularly.
Steel Exterior Doors
A steel exterior door is more common among commercial buildings than residential properties. However, it does not mean you can't have it installed as your front door if it suits your home design. Having steel as its material does not necessarily mean that the door consists of solid steel, which is very heavy and will naturally tear out the hinge. Even so, a steel door offers excellent protection, which is why most businesses use this as well.
Here are the advantages of choosing a steel door for your home:
Affordability:

A steel door is very cheap and can cost as low as $200. But if you want a better steel grade, you will need to shell out around $400 or even more.

Protection:

A steel door's outer shell is not easy to damage or break down. Even if an intruder intentionally tries to break through this type of door, they will find it almost impossible since they are impervious to break-in attempts.

Weatherproof:

Compared to wood doors, steel doors are weather resistant and will not rot, warp or swell. But note that a steel door is still prone to rust when constantly exposed to high humidity and salty air.

Maintenance:

The upkeep requirements of a steel door fall between a wood and fiberglass door, with the latter being almost maintenance-free. While you won't frequently be staining your steel doors, you still need to occasionally apply a new coat of paint.
A steel door is not without its drawbacks, though. And most of its disadvantages make most homeowners avoid this type of door material entirely.
Style:

Steel doors have very limited design options. The only notable decorative style you can apply is paint color – where you have very few choices as well. Since it exudes an industrial look, a steel door does not usually match the residential architecture.

Repair:

Just like wood, a steel door has its own set of damages to deal with. It can dent, crack, or chip. However, what makes it utterly different from wood is that these damages stay for the entire duration of its life. You cannot pop or sand out these imperfections, so you will have to replace the door entirely.

Rust:

While a steel door will not get affected by molds, it can end up rusted when exposed to salty air. Even if installing a storm door can offer protection, the lifespan of your steel door is significantly cut if you reside in high humidity areas.
Should You Go with Fiberglass Doors?
Wood doors offer numerous design choices and can give your home a luxurious appeal. However, they warp, fade, or swell over time, which means they need a lot of maintenance work. On the other hand, steel doors offer less maintenance work and better durability, but it does not come with a lot of style choices as wood doors do. If you want to get the best of both materials without their disadvantages, a fiberglass door is what you should opt for.
With fiberglass doors, you get extended warranties you won't typically receive from the other choices. Some can even offer a warranty on the same length as the fiberglass door's lifetime. It is a clear indication that manufacturers stand by their product, knowing that these doors are very resilient and durable. Fiberglass doors will also help you cut down on your energy bills. So when you switch from wood to fiberglass, your investment will be worth it in the long run.
If you're still hesitant about getting a fiberglass door, you can get expert advice from our professionals at C2 Operations. Our extensive experience installing fiberglass doors can help you make a knowledgeable decision. We also carry a wide selection of fiberglass doors to choose from, and we can help you find the right one depending on your preferences – whether it be style or budget, or both.
Need assistance with fiberglass exterior doors? Contact C2 Operations today for a stress-free design consultation.